GCE Wedding Spotlight: Cassie & John
Our sweet bride Cassie came to us along with Emily Moise of 
Keely Thorne Events,
 with a very clear vision of what she was wanting for her wedding. Put simply in her words, A GIANT PARTY!  With such a fun family we knew we needed to suggest very unique and memorable musical entertainment that was out of the ordinary.  Cassie chose to have her wedding ceremony in her parents' picturesque Saddlewood backyard.  The intimate ceremony began early, as guests were invited to mingle with cocktails and hors d'oeuvres for an hour before the ceremony.   For this portion the bride chose 
Divisi Strings Amp'd
, a string quartet specializing in contemporary pop music. While guests sipped cocktails waiting for the nuptials they listened to artists such as Coldplay, Maroon 5 and The Beatles on strings.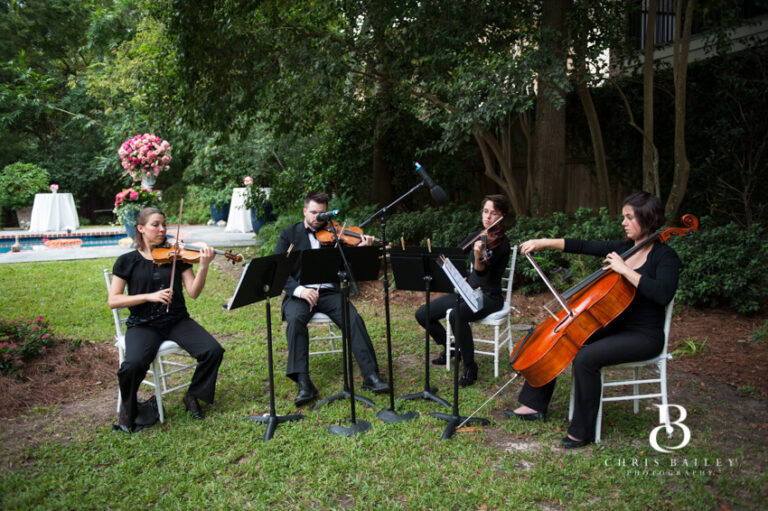 The bride also specified she loved bagpipes from her time at Sewanee, and she chose a traditional bagpipe processional.  After the seating of the families and processional of the wedding party that included sixteen bridesmaids, sixteen groomsmen, four flower girls, two ring bearers, and three dogs, American Bagpipes processed the bride down the aisle to "Highland Cathedral".
The bagpipe trio, including drums, then lead all of the ceremony guests through the streets on a neighborhood walk to the reception at the Forest Club!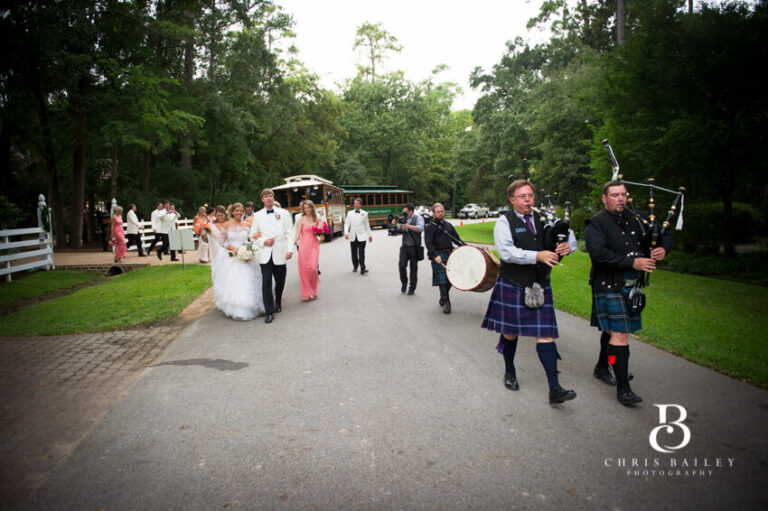 At the reception guests were welcomed into a grand tent filled with vibrant pinks and oranges, as the band's cocktail trio started dinner with classic big band and swing music.  The couple chose Big Swing and The Ballroom Blasters, a 13-piece high energy show band from Atlanta for their reception band.  The couple danced to "Warm Love" by Van Morrison, the bride and her father to "Stand By Me", and the groom and his mother chose "Tupelo Honey", as the groom and his family are from Tupelo, Mississippi.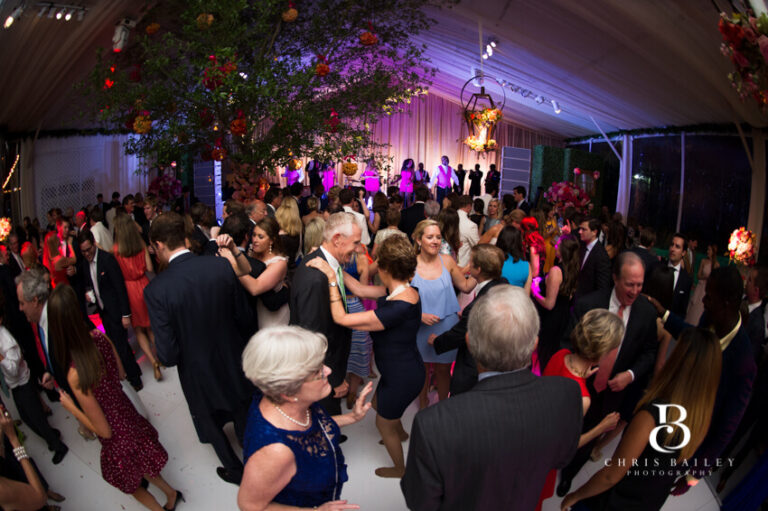 Big Swing is truly one of our favorites to work with and has such versatility playing everything from classic big band to today's dance hits. They kept the dance floor full all night for Cassie and John, with their Grammy award winning horns section and amazing vocalists. The band has a repertoire of over 500 songs, including swing, jazz, soul, Motown, rock and pop. They gave a monster three hour non-stop show!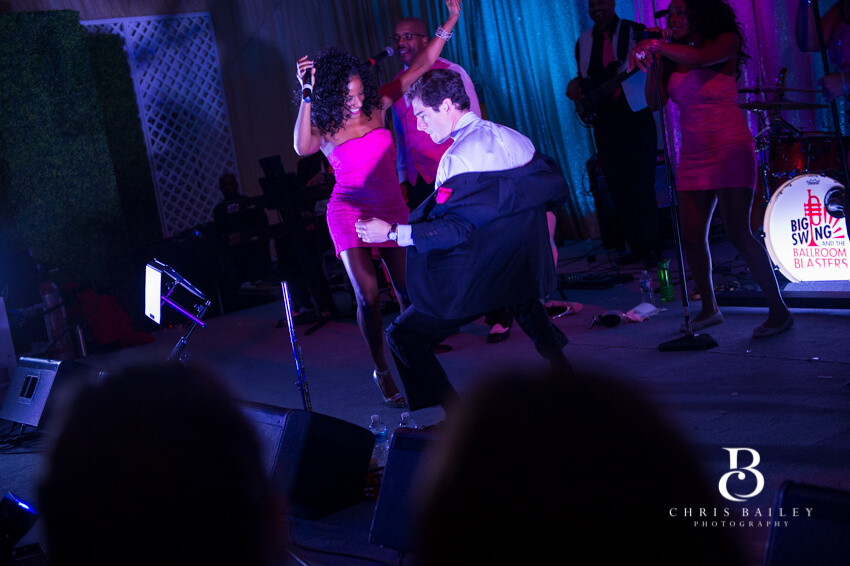 Cassie and John's wedding was truly a highlight of our 2014 Fall wedding season!  It was great to work with a creative vision incorporating so much tradition. There wasn't a minute without music for the entirety of the wedding, from the ceremony strings to the band's second line leading the last guest out!  A huge thanks to the Detering family, Emily Moise, and all the amazing vendors and musicians who made this wedding truly one of a kind.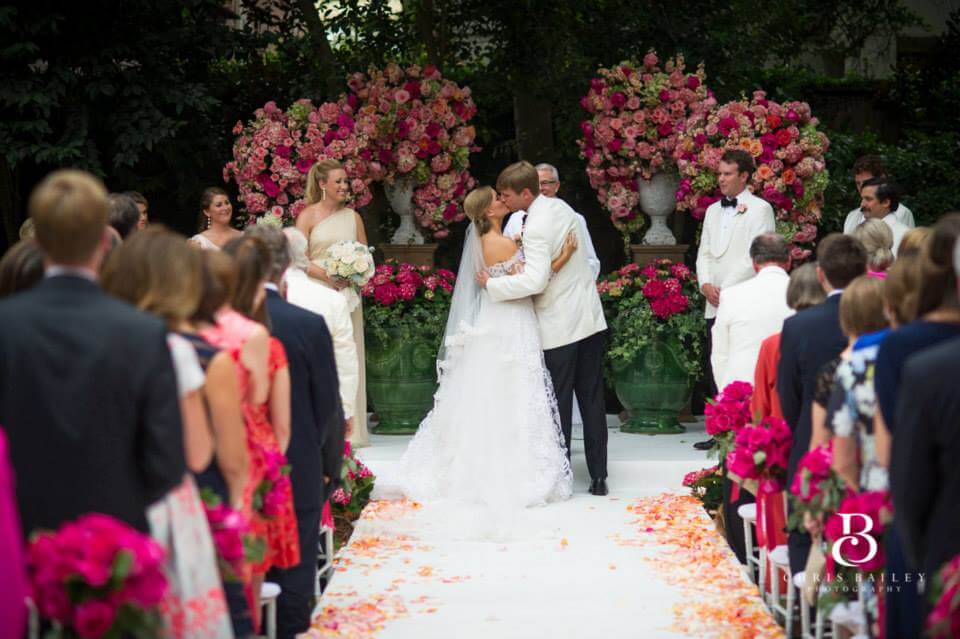 If you are seeking one of a kind options for your wedding or next celebration, please give us a call! We would love to hear all about your vision, family traditions and unique ideas! There are endless possibilities. 
In the spirit of love,

Olivia Minahan
Senior Account Executive
Gulf Coast Entertainment