GCE Wedding Spotlight: Meredith & Anson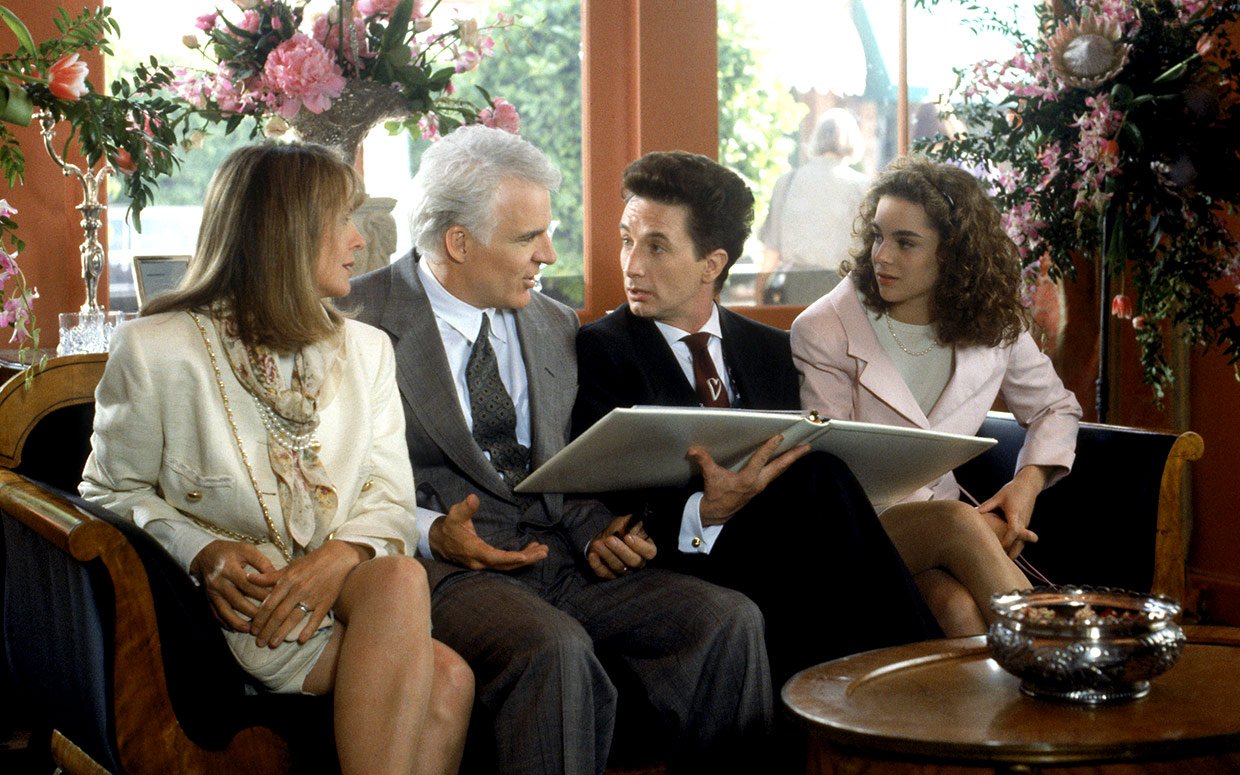 When the time finally comes to start planning a wedding, a bride can't help but to play through scenes from the 1991 classic movie "Father of the Bride".  Millions laughed and related as America's most perfect family stumbles through the emotions of planning a "small wedding at home". The wedding of course turns out to be large and extravagant with the help of Franc, who dreams up grandiose ideas and turns what could have been a backyard barbecue into the wedding of the century. Our bride, Meredith, truly wanted a "Father of the Bride" wedding at her childhood home in Bay City, TX. With help from her Franc, Katy Priesler of Keely Thorne Events, and gorgeous decor and catering by Swift + Company, they turned the Muecke's English manor home in Bay City, TX into a dream.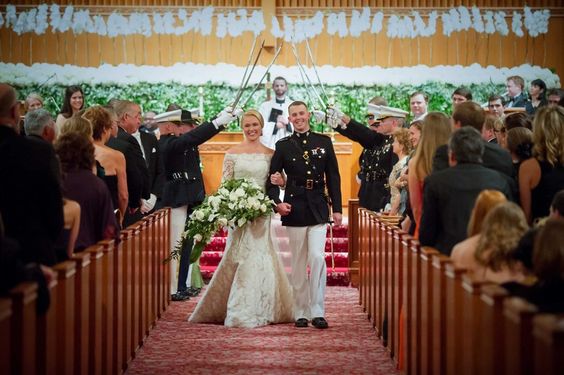 Meredith married US Marine Corps Lieutenant Anson Howard in her childhood church in Bay City, to the sounds of the classic Divisi Strings quartet.  Guests were then bussed to the Muecke 's home, where they were greeted by the 10 piece a cappella group, The Choraleers. The all male vocal group performed their Motown Revue and Doo-Wop repertoires, serenading the couple upon arrival with a joyous rendition of "Oh Happy Day". The Choraleers are truly a gem in Houston, performing Doo Wop, Motown, 70s, Classical hits, Gospel, and Christmas carols around the city for various events and weddings. They are also one of our most requested groups during the holiday season.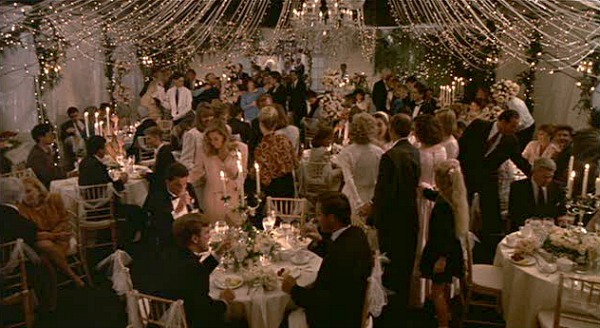 The scene inside the "Father of the Bride" tent , inspired the backyard setup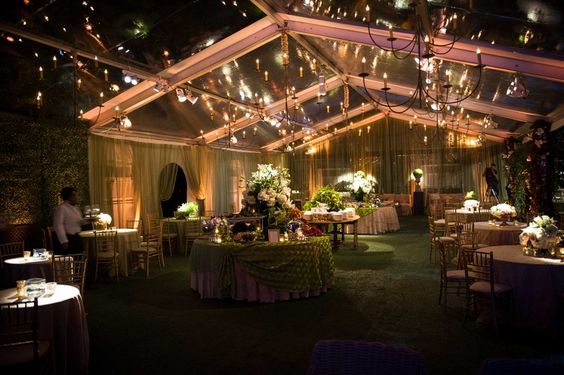 Tents sure have come a long way since 1991!


Once guests enjoyed cocktails and hors d'oeuvres in the front and backyards, they were ushered into the grand tent for dinner and dancing. Meredith and Anson engaged the amazing Simply Irresistible, a 13 piece party band for her reception.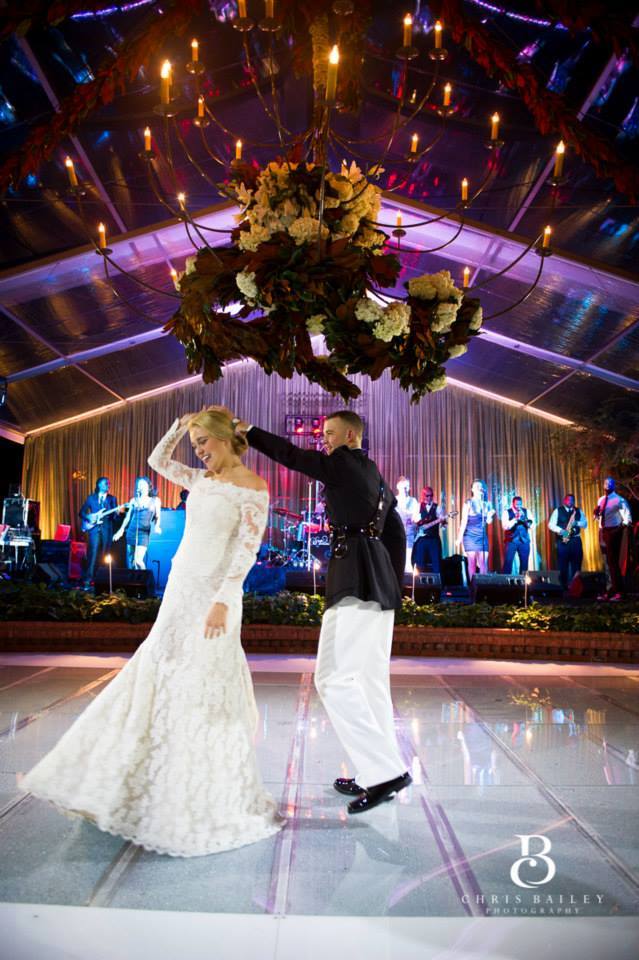 The couple chose "This Will Be An Everlasting Love" by Natalie Cole, for their first dance as husband and wife. The dance floor was constructed over the backyard pool Meredith grew up swimming in.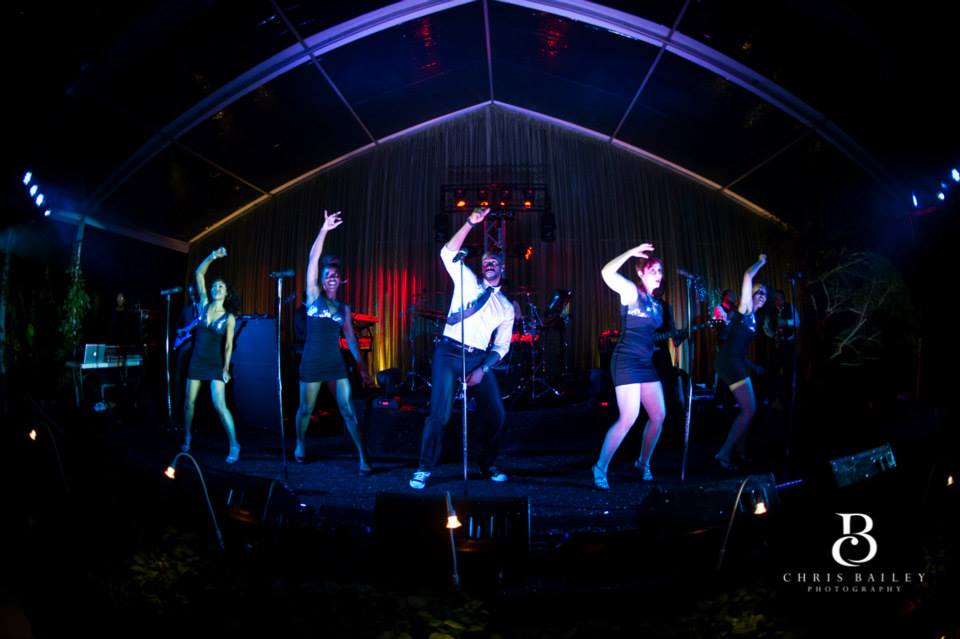 Simply Irresistible musicians are some of the best in the country. The high energy, non-stop 3 hour show comes with a powerful horns section, 5 amazing front line vocalists and customized play lists and costumes. The band's front line is comprised of Toni Braxton's sister, Trina, a Canadian Idol winner, a Chicago Idol winner, a former Party On the Moon lead vocalist and a male vocalist just off Broadway. The dance floor was packed all night long with guests dancing over the pool, and under the stars!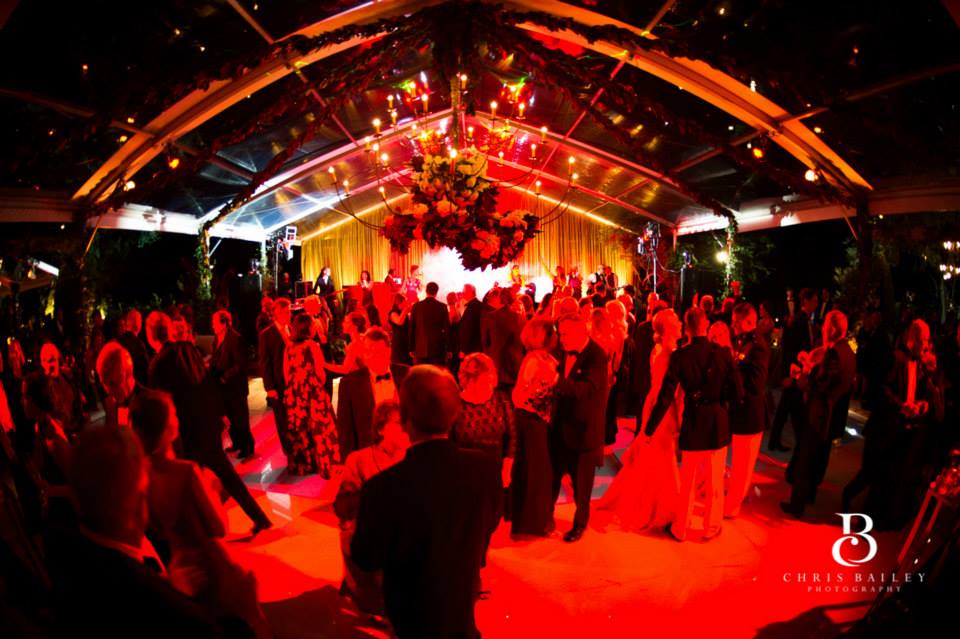 We loved working with Cerie, Meredith, and Katy to choose music perfectly aligned with their vision for this "Father of the Bride" wedding. What a loving family to welcome their friends and family into their home,  and allowing it to be completely transformed!  We are sure there were no George Banks meltdowns during the process with such an amazing team. Our friends at Chris Bailey Photography also did an amazing job capturing the precious moments and showcasing the musical entertainment.   There's just something about being in your own home instead of a venue, that is humble, warm, and comfortable for such a special occasion. October 4, 2014 was a night to remember and a pleasure to help create!




Cheers,

Olivia Holland Minahan
Senior Account Executive
Gulf Coast Entertainment