GCE Wedding Spotlight: Gospel Choir Trend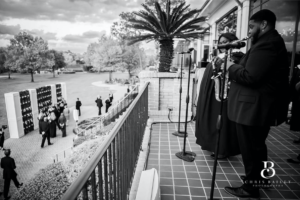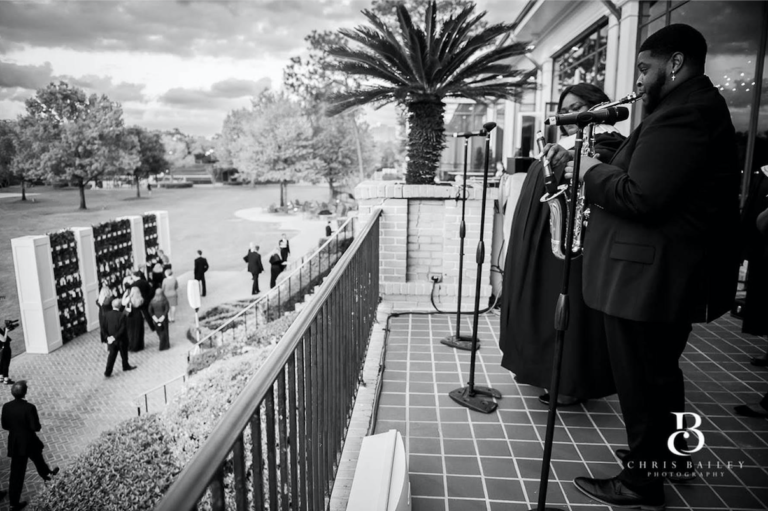 At Gulf Coast Entertainment, we are always honored to suggest entertainment and advance the details of performances for our clients' weddings, and we love keeping our eyes on trends we spy. Today our spotlight is on two weddings that incorporated a gospel choir into their special day. We have noticed several brides asking for gospel choirs to put a special twist on classic songs with their beautiful harmonies and powerful voices.
Molly and Travis' Wedding
It was such a treat to work with this wonderful family twice in six months! In 2018, we helped with one of their daughters' weddings in Aspen, and this year, we collaborated with them again, this time on Molly's wedding. Molly and Travis wed at the Bayou Club this February surrounded by the gorgeous sounds of Divisi Classic Strings beginning their ceremony. The bride walked down the aisle lined with lanterns and gorgeous flowers. Immediately following the ceremony, some of our favorite, local gospel singers surprised guests by singing "Oh Happy Day," creating a magical moment for the family and guests. The wedding continued inside a large tent for their reception. Keely Thorne Events created another masterpiece, filling the room with white and pink flowers. Guests were seated under greenery and simple chandeliers hanging from the high ceilings, giving the room a stunning glow. The bride and groom shared their first dance to "In the Mystic" and the reception band had the guests dancing all night long. The different music styles throughout the night never failed to entertain the guests and created countless special moments for the family. We were so happy to be a part of this wonderful night!
Lillian and Ryans' Wedding
This March, we were thrilled to provide the music for Lillian and Ryan's wedding. The ceremony started out at the bride's family home, where their backyard was transformed into a magical ceremony venue, incorporating the family's roots and childhood memories into a day they will never forget. After the ceremony, one of our other favorite, local gospel choirs performed their take on a mixture of secular and religious songs, including "Oh Happy Day," "My Girl," and "Reach Out and Touch," the latter two songs served as the father/daughter and mother/son dances, respectively. Once the ceremony celebration wound down, wedding guests were shuttled to the Houston Country Club where the reception continued in the ballroom. Keely Thorne Events created another magnificent wedding with gorgeous greenery and ribbons surrounding the venue. The couple shared their first dance to "Wrapped Up in You" performed by one of our favorite bands, who traveled in from the east coast for this very special occasion. The band kept the crowd dancing all night, and flutterfetti capped off the evening's celebration, which Chris Bailey Photography captured so beautifully in his images. We treasure the gift of having been a part of such a special evening.
XO
GCE Team
info@gulfcoastentertainment.com
713-523-7004