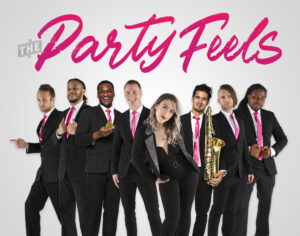 Feel the Party all night long with The Party Feels!!!!
To say this band will make your event the one everyone will be talking about, is an understatement. TPF will fuel inject your event with high energy hits from the past to the present and get you up and dancing and feeling all the feels.
Born out of the idea of a more unique action packed party band experience, TPF is here to bring fun, youthful energy, professionalism & life to the best night of your life.
The band got their start playing several clubs on Nashville's World Famous Broadway Strip before morphing into the driven & highly entertaining special events group they are today. The Party Feels have a realness & true authentic energy about them!!!! They are the band you will want more & more of.
The Party Feels can guarantee a high energy good time & are the right choice for any event as an 8 piece all star cast or a stripped down 5 piece for the more personal "the band next door" feel. And yes, TPF will get you feeling "ALL THE FEELS" ALL NIGHT LONG!!!!!