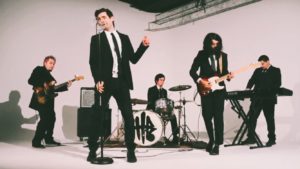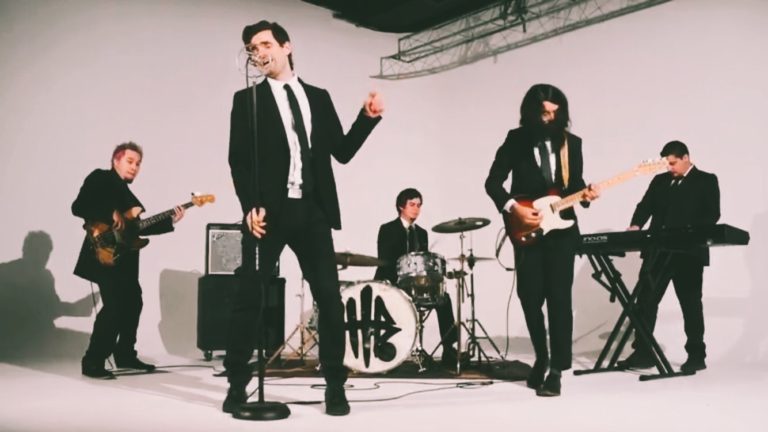 Nick and the Hits are a party and wedding band based out of Houston, TX. Known for their explosive and energetic live performances, they are the perfect addition to any event that will ensure the dance floor stays packed.
Nick and The Hits play radio hits from every decade — all the way from Elvis to Justin Timberlake. They play music from all genres, but specialize in pop, rock, funk and soul. The band tailors their performance to the needs of each individual client, and pays attention to the vibe of each audience. There is no one-size-fits-all for Nick and The Hits; whatever is best for your event is what the band delivers.
Bandleader and singer, Nick Serena, is the consummate showman. His talent for hosting can help escalate your party or wedding into a full-blown, memorable event.
The band has been playing music together for over 15 years, and started when the members were just kids, jamming in the garage in middle school. Since those humble beginnings, they've rocked rooms all over the country, and their chemistry, friendship and joyful love of music is apparent to every audience they play for.
If you want your party or wedding to be one to remember, book Nick and The Hits!
---
"Thank you so much for checking in about the party. [Nick and the Hits] were absolutely wonderful! The music was perfect and they are just the nicest, most respectful guys. We really enjoyed them and will definitely have them come play for us again…I've never booked a band before and your team and Nick made it an excellent experience. You've got a top notch operation!" –Michele, Client 5/22/21
---
**Not sure if this is the right band for you? With just a few pieces of information, we will send you a free, curated list of entertainment options for your event.**
Nick and the Hits Song List
Mary Jane's Last Dance – Tom Petty
What I Got – Sublime
This Love – Maroon 5
Feel It Still – Portugal. The Man
Faith – George Michaels
Build Me Up Buttercup – The Foundations
Sweet Caroline – Neil Diamond
Can't Hurry Love – The Supremes
Just What I Needed – The Cars
Your Love – The Outfield
Just Like Heaven – The Cure
Can't Stop The Feeling – Justin Timberlake
If You Want Me To Stay – Sly And The Family Stone
Gimme Some Sign – Brenton Wood
Miss you – The Rolling Stones
Lonely Boy – The Black Keys
Someday – The Strokes
Valerie – Amy Winehouse
Hey Ya – OutKast
Roses – OutKast
Sexyback – Justin Timberlake
Woolly Bully – Sam The Sham
In My Life – The Beatles
If Not For You – George Harrison
Baby, I Love You – Andy Kim
Hey Jude – The Beatles
Viva La Vida – Coldplay
Hold On We're Going Home – Drake
Suit n Tie – Justin Timberlake
I Wanna Dance With Somebody – Whitney Houston
Oh What A Night! – Frankie Valli and The Four Seasons Uptown Funk –
Bruno Mars
Treasure – Bruno Mars
Runaround Sue – Dion
Bad Romance – Lady Gaga
Hooked On A Feeling – Blue Swede
Smooth – Santana
Sweet Child O Mine – Guns n Roses
Pumped Up Kicks – Foster The People
Crazy – Gnarls Barkley
Bad Moon Rising – Creedence Clearwater Revival
Let's Stay Together – Al Green
Feel Good Inc – Gorillaz
American Girl – Tom Petty
Oh! Darling – The Beatles
Tell It Like It Is – Aaron Neville
Long Train Runnin – Doobie Brothers
The Wanderer – Dion
Sittin On A Dock of The Bay – Otis Redding
Crosseyed and Painless – Talking Heads
Give It Away – Red Hot Chili Peppers
Scar Tissue – Red Hot Chili Peppers
Controlla – Drake