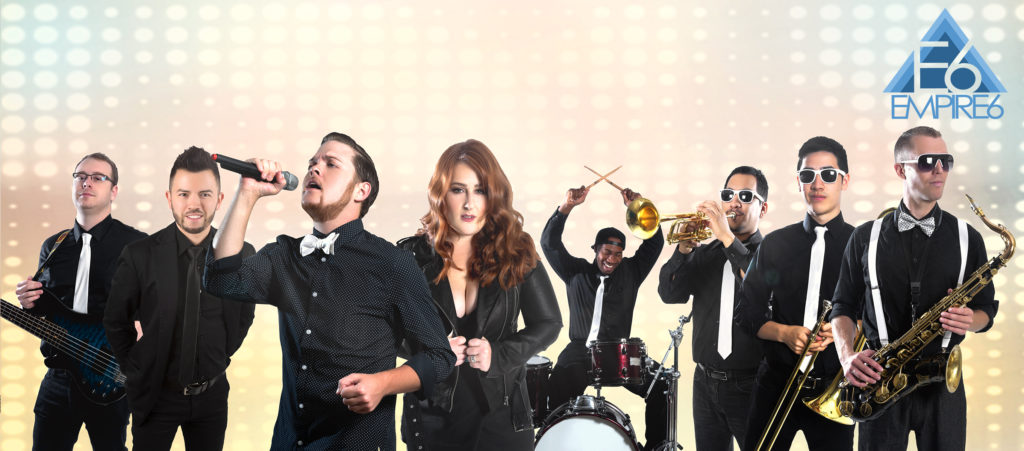 Empire 6 continues the trend of bringing a much-needed facelift to the party band market, infusing a hip sense of style and modern charm with an eclectic, smart selection.
The members of E6 create the perfect storm of talent and entertainment. Their powerful vocalists bring their huge personalities and non-stop energy to the stage every night, while the band creates a wall of sound, perfectly recreating everyone's favorite songs. Empire 6 specializes in bringing the excitement of today's modern pop arena tours to the smaller, and tirelessly updates their repertoire to always have the most relevant music for today's generation. However, the breadth of talent in Empire 6 gives them a huge palette of musical styles and atmospheres, allowing them to easily flow from early evening styles of Michael Buble, Etta James, and Coldplay, to traditional party songs from the 70s and 80s, and then right into their specialty: today's modern pop tunes that are currently topping the charts.
  Empire 6 is customizable to be the perfect fit for any size event. The band most commonly performs with 8 pieces, which includes the rhythm section of guitar, bass, and drums, a full three-piece horn section, and two high-energy vocalists leading the show. For smaller events, the band can perform as a 6-piece (with a solo saxophonist as opposed to a full horn section), or for larger events, the band expands to a 10-piece with a total of four amazing vocalists strutting the stage. Other size options and customizations are always up for discussion.
Empire 6 has played well over 1000+ different songs, from Billboard #1 hits to obscure indie folk tunes. While most known for leading the industry with their ever-growing catalog of modern pop and their super-fun 90's song list, they are a true variety band that routinely performs country, funk, Motown, 80's rock and pop, and much more. In fact, E6 can generally perform 1-2 hours of most popular genres. They have even done shorter "all-country" or 80's themed events.
Not sure if this is the right band for you? With just a few pieces of information, we will send you a free, curated list of entertainment options for your event. 
Modern Pop
California Love
Rolling in the Deep
Crazy in Love
Love on Top
Boom Boom Pow
I Gotta Feelin'
The Time
Locked Out of Heaven
Feel So Close
Call Me Maybe
Forget You
Want U Back
Yeah 3X
Come On Over
You Make Me Feel
Tonight I'm Loving You
Call on Me
Club Can't Handle Me
Low
Wild One
Salty Dog
Some Nights
We Are Young
Love You I Do
Domino
Price Tag
Sexyback
Brokenhearted
California Gurls
ET
Firework
Hot n Cold
I Kissed a Girl
Last Friday Night
Part of Me
Teenage Dream
Blah Blah Blah
Blow
Take It Off
Tik Tok
We R Who We R
Your Love is My Drug
Pursuit of Happiness
Use Somebody
Black Horse and the Cherry Tree
Bad Romance
Just Dance
Pokerface
Party Rock Anthem
Sexy and I Know It
Moves Like Jagger
One More Night
Payphone
Hot in Herre
Shake Ya Tailfeather
Animal
Everybody Talks
Pound the Alarm
Starships
Super Bass
Turn Me On
Good life
The Way You Move
Good Time
Give Me Everything Tonight
Gangnam Style
Buttons
Ignition
Only Girl
Rude Boy
S&M
Umbrella
California King Bed
We Found Love
Where Have You Been
Who's That Chick
It Wasn't Me
Dynamite
Higher
Bottoms Up
DJ Got Us Falling in Love
More
Yeah
The Wobble
Gettin' Jiggy With It
and 90s pop, rock, and hip hop
and 80s pop and rock
and Funky/Soul/Disco/Old Stuff
and Country
and Standards/Ballads