Think Big Party fills your desire for the familiar sounds of the popular R&B and Funk hits from the 1960's through the 90's. Earth, Wind & Fire, Chicago, Aretha Franklin, Wilson Pickett and Stevie Wonder are but a part of their extensive repertoire. Big Band tunes from Frank Sinatra and Harry Connick Jr always make for a lively and grand event by pleasing everyone of all ages. Dinner/dance clubs throughout Texas routinely call on the band for their dance events.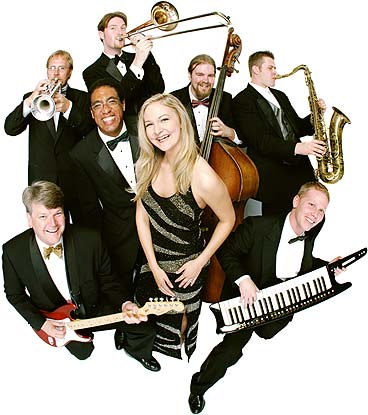 Thing Big Party has an extensive song list – here are some categories__
Jazz Favorites (from any era) – just name it – they'll do it.
40's Big Band and Swing – can play anything Frank Sinatra sand, Tomy Dorsey played or Cole Porter wrote.
50's Rock and Roll – Elvis, Jerry Lee Lewis, Connie Francis, Little Richard, The Platters, Percy Faith, Johnny Mathis, The Everly Brothers
60's Soul, Motown and R&B – Stevie Wonder, Aretha Franklin, Ray Charles, Sam and Dave, Diana Ross & the Supremes, Marvin Gaye, The Temptations, The Four Tops, The Isley Brothers, Smokey Robinson, Martha Reeves. This list goes on and on.
60's Classic Rock – The Beatles, The Rolling Stones, Elvis Presley, Ray Charles, The Righteous Brothers, Roy Orbison, The Chiffons, Bobby Vinton, Simon and Garfunkel…
70's Rock – Led Zepplin, Steely Dan, David Bowie, The Who, Queen, Aerosmith, The Eagles…
70's Funk – Earth, Wind and Fire, Kool and the Gang, George Clinton, The Gap Band…
80's Rock – Bon Jove, AC/DC, Guns and Roses, Bruce Springsteen, Journey, The Pretenders, The Tubes, Van Halen…
80's Dance – Michael Jackson, Madonna, A-Ha, Haircut 100, Duran Duran, The Cure, Crowded House
90's Favorites – Dave Matthews, Jamariquai, Cold Play, U2, Boy Bands (Justim Timberlake?)
Hip Hop – Tupac, Mary J Blige, Beyonce, Outkast, 50-Cent, Ludacris, Usher
Classic Country – Willie Nelson, George Strait, Brooks and Dunn
Current Country – Keith Urban, Dixie Chicks, Darryl Worley, Kenny Chesney, Lyle Lovett
Latin – Salsa, Merengue, Cha Cha, Pancho Sanchz, Buena Vista Social Club…
Fun Party Tunes – Jimmy Buffet, Bare Naked Ladies, Huey Lewis and the News, Violent Femmes
World Renouned Artists! – Van Morrison, Elton John, Billy Joel, Marvin Gaye, Beach Boys, Tina Turner, Al Green, Chicago, Steely Dan, Ray Charles, Aretha Franklin, Prince, James Taylor, Elvis
And of course, today's Top 40 Hits!