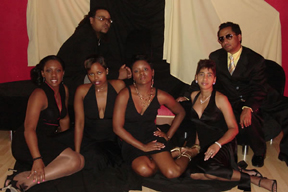 Rick Marcel and the Radiance Band has been an established act since 1993, going strong 10 years, this band has performed a wide variety of shows anywhere from the most modest clients to the more energetic party group. With over 200 songs to choose from The Radiance Band can accommodate any size, any age group, and any type of crowd.
The Radiance Band consist of 6 pieces, one male lead and guitarist, two lead female vocalist, a female keyboardist, a female bassist, Drums and a optional saxophonist. One of the greatest assets about the band is that the style on music varies from Rock and Roll, Funk, 80s pop, Jazz, R&B, Motown and even some hip hop. So your never hear the same thing all night.
If you want a high energy show that you'll never want to end, or if you just need to accommodate a more sophisticated crowd The Radiance Band does it all. Professionalism and experience puts this Band in first at making your special event Special.
1999 Prince
Addicted to Love Robert Palmer
Ain't Nobody Chaka Khan
Aint no Sunshine Bill Withers
Ain't to Proud to Beg Temptations
Aeroplane  Red hot chilli peppers
All Night Long Lionel Richie
American Idiot Green day
American Woman  Lenny Krativz
Arm Wide Open  Creed
At Last Etta James
Baby Boy  Beyonce
Back that thing up  Juvenile
Bad Girl  Usher
Benny and the Jets  Elton john
Billie Jean  Michael Jackson
Black Cat Janet jackson
Black Magic Woman  Santana
Boogie on Reggae Woman  Stevie Wonder
Breathe  Toni Braxton
Brick House  Commodores
Brown Eyed Girl  Van Morrison
Can't Get Enough of your Love Babe   Barry White
Can't get no Satisfaction Rolling Stones
Carwash  Rose Royce
Celebrate  Kool and the Gang
Chain of Fools  Aretha franklin
Come as you Are  Nirvana
Crazy  Areosmith
Crazy  Gnarls Barkley
Crazy in Love   Beyonce
De ja Vu   Beyonce
Deep inside  Mary J Blige
Diamonds and Pearls  Prince
Dead or Alive  Bon Jovi
Dock of the Bay    Otis Redding
Don't Cha  Pussycat Dolls
Don't know why  Norah Jones
Don't Stop  Michael Jackson
Easy  Lionel Richie
Endless love  Lionel Richie & Diana Ross
Falling  Alicia Keys
Famous  Puddle of mudd
Family Affair  Mary J Blige
Fantasy  Mariah Carey
Fire   Pointer sisters
Flashlight  Parliament
Fly Away  Lenny Kravitz
Fly me to the moon   Frank Sinatra
Freak Out  Chic
Georgia on my MInd  Ray Charles
Get down on it  KC and the sunshine band
Get Down Tonight  KC and the sunshine band
Girls and Boys   Prince
Gold Digger   Kayne west & jamie foxx
Good Times  Chic
Goodies  Ciara
Hanging by a moment   Lifehouse
Harder to Breath  Maroon 5
Hella Good   No Doubt
Hey ya   Outkast
Holiday   Madonna
Hot Stepper   Iza kamoze
Hotel california   Eagles
How sweet it is    Temptations
Hurt so good  John mellencamp
I Fee Good  James Brown
I like the way you move   Outkast
I love rock and roll   Joan Jett
i wanna be your lover  Prince
I wanna dance with somebody    Whitney Houston
I Will Survive    Gloria gaynor
I'll take you there  Mavis staples
I'm Going Down   Mary j Blige , rose royce
If I ain't got you  Alicia Keyes
If you're gone Matchbox Twenty
I'm coming out  Diana Ross
Irreplacable  Beyonce
Isn't she lovely  Stevie wonder
Itis your birthday 50 cent
Jungle boogie  Kool and the gang
KISS   Prince
Knocking on heavens door  Guns and Roses
Kryptonite   3 doors down
La Grange  ZZ Top
Last Dance   Donna Summers
Living on a prayer   Bon Jovi
Le Freak   Chic
Let's go crazy   Prince
Let's get it on  Marvin Gaye
Let's get it started   Black Eye Peas
Let's stay Together   Al Green
LIttle Red Corvett   Prince
L-o-v-e    Natalie cole
Love and happiness   Al Green
Midnight Train to Georgia  Gladys knight and the pips
Milkshake   Kelis
Mustang Sally   Wilson pickett
New york New york Frank sinatra
Oh what a night  The four seasons
Oye Como Va  Santa
Party like a rock star    Shop boyz
Perrogative  Bobby Brown
Pimp Juice   Nelly
Proud Mary  Tina Turner
Purple Rain  Prince
Push it   Salt and pepper
PYT  Michael Jackson
Rasberry beret  Prince
Real Love  MaryJ Blige
Rehab   Amy Winehouse
Regualte  Nate Dogg
RESPECT   Aretha Franklin
Rich Girl   Swen Stephanie
Rocket man  Elton John
September  Earth Wind & Fire
Sexyback  Justin Timberlake
Shake your booty  KC and the sunshine band
Shining star   Earth wind and fire
Signed sealed delivered  Stevie wonder
Soul Man  Sam and Dave
Sweet Caroline Neil diamond
Sweet child of mine  Guns N Roses
The way you look tonight   Frank sinatra
Thriller  Michael jackson
Tteen spirit  Nirvana
This Love  Maroon 5
Ttry a litlle tenderness Otis redding
You Send Me Sam Cook
Unforgettable   Nat King cole
Umbrella    Rhianna
Walk this way  Aerosmith
Wanna be Starting Something  Michael Jackson
We are family  Sister sledge
Welcome to the jungle Guns n Roses
What a wonderful world   Louis armstrong
Yeah   Usher
You look wonderful tonight  Eric clapton