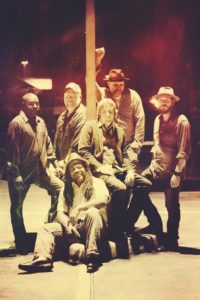 Some bands are content to remain within the rigid confines of their musical comfort zones. The Chubby Knuckle Choir is not one of those bands. Nobody gleefully shatters genre boundaries like this frenetic sextext, who play everything from bongos to banjos onstage.
The Chubby Knuckle Choir officially formed in 2009 in Bastrop, Texas, a town which the original band members called home at one time or another. The band is made up of Perry Lowe, Tres Womack, Josh Droegemueller, Luke Adair, Dave Gould, and Rory Smith, singer-songwriters and multi-instrumentalists who all come from varying musical and geographical backgrounds; the result is a freewheeling live sound which blends country, bluegrass, R&B, and swamp blues. "It's a marriage of all genres," explains Lowe, who plays guitar, drums and keys, and contributes vocals, while Smith describes it as "folk music from a country that doesn't exist … but should."  
Not sure if this is the right band for you? With just a few pieces of information, we will send you a free, curated list of entertainment options for your event.