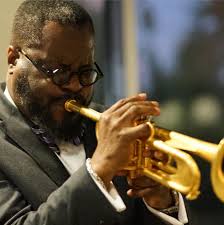 Vincent Gross is best known for his unique jazz vocalese style and riveting trumpet performances like that of legendary jazz artisans. His multiplicity as a crooner, instrumentalist, and entertainer allows audiences a fully immersive and engaging experience from the all-around performer.
Gross has long been recognized for his clear, incisive sound on the brass' trumpet, cornet and flugelhorn, and excellent vocal skill, particularly with vocalese and scatting styles. He developed this reputation because of his chameleon-like impression of Louis Amstrong and Eddie Jefferson making him an intrinsic tribute artist.
Gross' boasts an impressive repertoire of American popular songs and jazz standards in the Great American Songbook. He performs broad genres of jazz, bebop, blues, R&B, funk/soul, hip-hop/rap, pop, and folk and can learn new songs quickly.
Not sure if this is the right band for you? With just a few pieces of information, we will send you a free, curated list of entertainment options for your event.
A Kiss to Build A Dream On
Ain't Misbehavin'
All of Me
All the Things You Are
Alone Together
Autumn Leaves
Basin Street Blues
Besame Mucho
Bill Bailey
Billie's Bounce
Black Orpheus
Blue Bossa
Blue Skies
Blue Berry Hill
Body and Soul
But Not for Me
Bye Bye Blackbird
Cherokee
Confirmation
Days of Wine and Roses
Do You Know What It Means
Doxy
Fly Me to The Moon
Footprints
Four
Hello DollyHow High the Moon
I Hear a Rhapsody
I Love You
I Remember You
I'll Remember April
I'm Old Fashioned
If I Should Lose You
If I Were A Bell
In A Mellow Tone
In A Sentimental Mood
It Could Happen to You
It Had to Be You
Jambalaya
Jazz Me Blues
Just Friends
Lazy River
La Vie En Rose
Mack The Knife
Mardi Gras Mambo