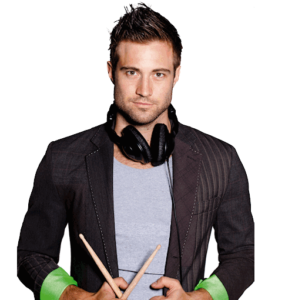 DJ/Drummer combo Don Vaughn went from playing gigs with his band in high school to headlining a SXSW showcase and touring with Blu Cantrell seemingly overnight. Combining his passion for both music and neuroscience, Don sets the stage to be more than just another DJ.
Born in San Diego, Don began playing music in a high school hardcore band that opened for Pepper and Agent 51. After high school Don attended Stanford, graduating in 2008 with dual degrees in Physics and Economics.
His neuroscience education landed him a job working in Houston at Baylor College of Medicine. Don found that not only did Houston facilitate his scientific ambitions, but it also offered many opportunities for his creative mind to soar.
Don began performing in clubs across Texas. His fusion of drumming and DJing brought a completely new experience for concert attendees and quickly gained him a loyal following. Coined "A 21st Century Renaissance Man" by the media, Don mixes his understanding of how the brain works with his musical talent to create an unforgettable experience for concert attendees.
Not sure if this is the right band for you? With just a few pieces of information, we will send you a free, curated list of entertainment options for your event.