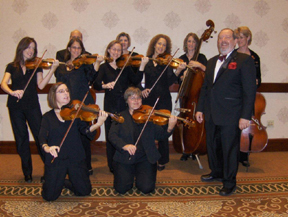 Getting Married? Looking for a totally kickin' and affordable live music band for your next party or fundraiser? Searching for a musical partner to help you bring a Gala Event to life?
Welcome to Houston's Richard Brown Orchestra, and over two decades of experience giving our clients the live music bands and string ensembles that provide the perfect musical accompaniment to life's unique and memorable moments.
Richard Brown Orchestra employs Houston's best musicians and offers a wider variety of live music bands then anyone else in the Houston area.
We can provide you with wedding ceremony music, music for your wedding reception, background music for your wedding dinner or a kickin' wedding band for when you want to get those dance shoes on.
We offer traditional Big Band favorites, Sinatra, Motown, Disco, Rock, Latin, Wedding music and much more.
The band comes in three formats, Combo (8 musicians and up to 6 singers), Big Band (17 musicians), and Full Orchestra (27 musicians).
Our superb String Ensemble performs both classic repertoire and custom arrangements, for an elegant and personalized event. Or explore our variety of string combinations – quartets, trios, and duos – as well as Flashdrive, our innovative Disc Jockey and String Quartet combo.
We can customize any of our ensembles to suit your event and venue – choose as small as a String Quartet, or choose as many musicians as you need.
Whether you need a full symphony orchestra and chorus or a sizzling band with 6 fabulous singers; a superb string ensemble with custom arrangements or a unique or unusual solo talent, Richard Brown Orchestra is the last call you'll need to make.
Not sure if this is the right band for you? With just a few pieces of information, we will send you a free, curated list of entertainment options for your event.