GCE Employee Spotlight: Olivia Minahan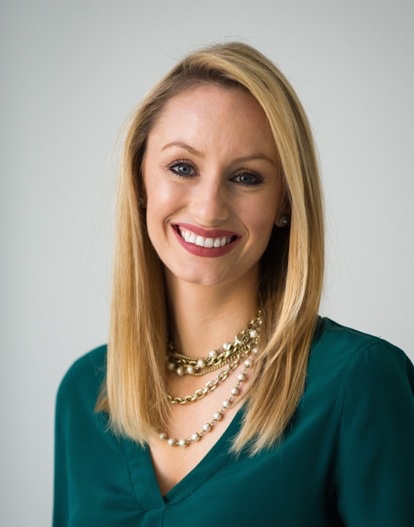 1. What path led you to work at GCE?

I decided to move to Houston after college, which was a big new city for me after being in small town Mississippi for 4 years. Home of the Blues and a slower pace of life. Learning to navigate Houston and establishing a career here was a long road for me. I tried to get as involved with many different organizations in the arts as I could, and started out working in special events for the former Alden Hotel and the French American Chamber of Commerce.  I always knew of Susie Criner, since she is so involved with Houston organizations and also, always out of the scene being fabulous. It just so happened that I met and became friends with Annie along the way,  and learned all about her super cool Mom and music family! After Annie left us for Dallas (traitor!) we disconnected for a few years but was immediatley intrigued when she emailed and posted about an open position at Gulf Coast.  With my background of several internships and working at C3 Presents and The Texas Music Office in the Governor's office in Austin, I really wanted to get back into music and live event production. I have been an Account Executive at GCE for almost 6 years and I love procuring entertainment and producing events for my clients.  It has been such a wonderful opportunity for me not being a native Houstonian, as I get to work with clients from all the major industries here.  I now feel very connected to Houston and it's diverse culture.  There is always something going on; there are literally multiple large events in this city every single night.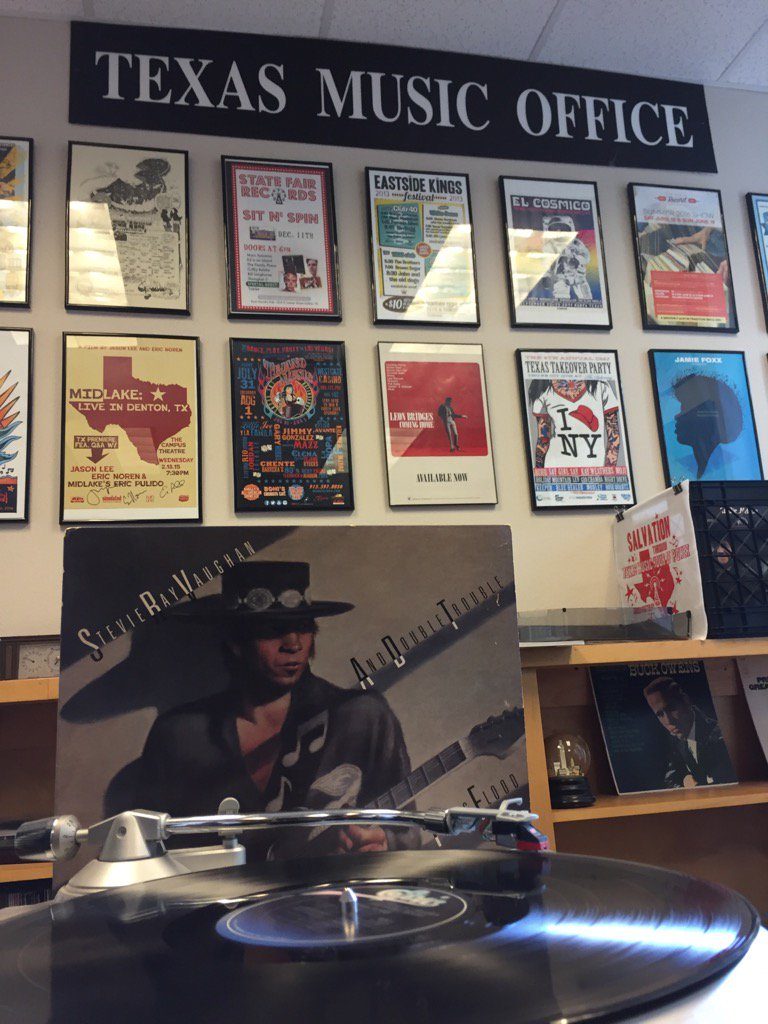 My very first office, full of history and fun memorabilia!

2. What is one of your most memorable/favorite events you have worked on?

One of my favorite's was definitely the University of Houston Gala honoring the Moores School of Music. I was absolutely ecstatic to work with Audra McDonald. I was extremely involved with theater and dance growing up, so this was kind of a star struck moment for me having first seen her on Broadway when I was 16. I have always loved her powerful voice and I think she does a really great job of picking diverse roles. I attended her rehearsals at the Wortham and sat in the back, listening to her sing and it brought tears to my eyes. Her voice is so powerful and loud, they kept having to move everything around and adjust the sound. She had previously sent over sheet music for one song, for the U of H student jazz orchestra to accompany her on. You could tell the students were so nervous, and had been playing this one song over and over and over. She walked right out on the stage and they went through the song once- piece of cake nailed it. She was so gracious and was told them how impressed she was, and that she felt like they didn't even need to run through it twice. She shook all their hands; she is a really lovely person and we're excited to work with her again in 2017.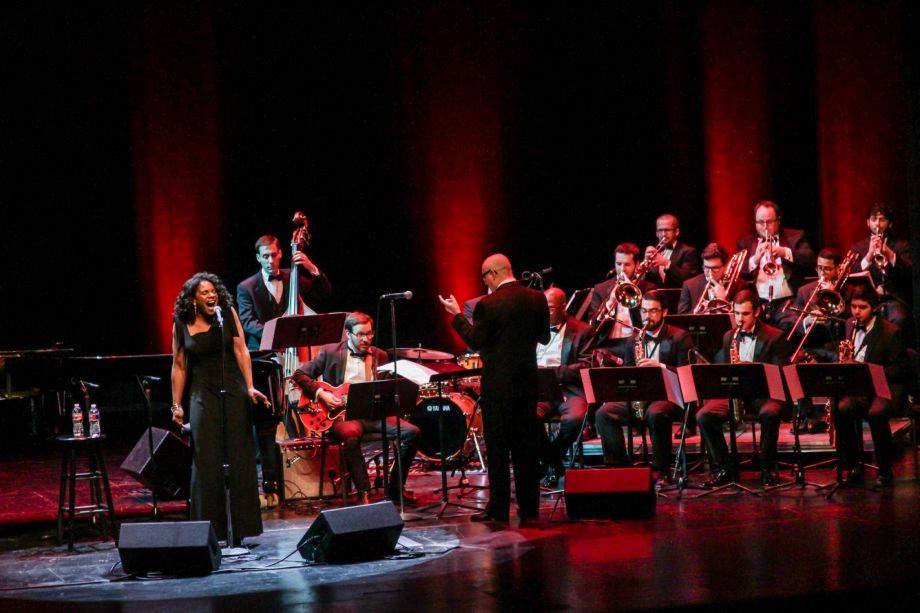 Audra performs "One Thousand Four Hundred and Thirty Two Sheep," with the U of H Jazz Orchestra

I have worked on so many gorgeous weddings; I am constantly in awe of the creativity and work that goes into weddings these days. One of my favorite weddings (besides my own) was the Detering wedding. I just loved how she got married in her parents' backyard, with a cocktail hour before the ceremony (because why not?), had her dogs walk down the aisle, and then everyone strolled down the street to the Forest Club. I know a million brides who wouldn't dare to walk in heels and a wedding dress down the street, but with bagpipes and drums – they led the crowd. It was over the top gorgeous, but also had such a casual and unpretentious attitude. I think the music selections really showcased the families warm personalities as Divisi's Amp'd Quartet provided ceremony music at the house with contemporary tunes from Coldplay and the Beatles, the bagpipe trio, and then one of my favorites Big Swing and the Ballroom Blasters from Atlanta packed the dance floor. Personalized, different, relaxed and FUN, which is my kind of party!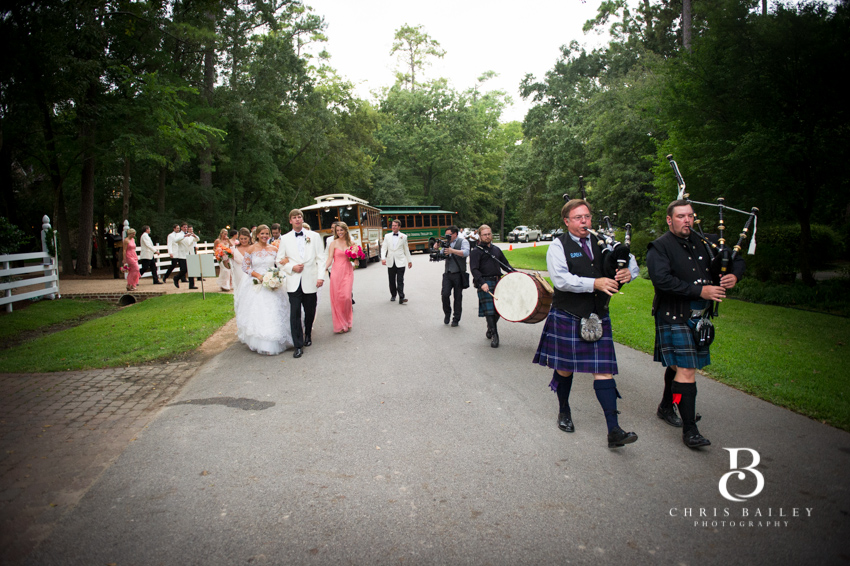 My wedding was a dream, but also a blur!  Everything went by so fast! I always tell brides to let go of the small stuff and just take it all in because it really is a whirlwind. I had the In10City 10pc band from Dallas, and I picked each vocalist. I was so impressed from the moment they started playing while my husband and I were eating in the private room. It was really hard to listen to the band playing while being held in a room, itching to get out on the dance floor!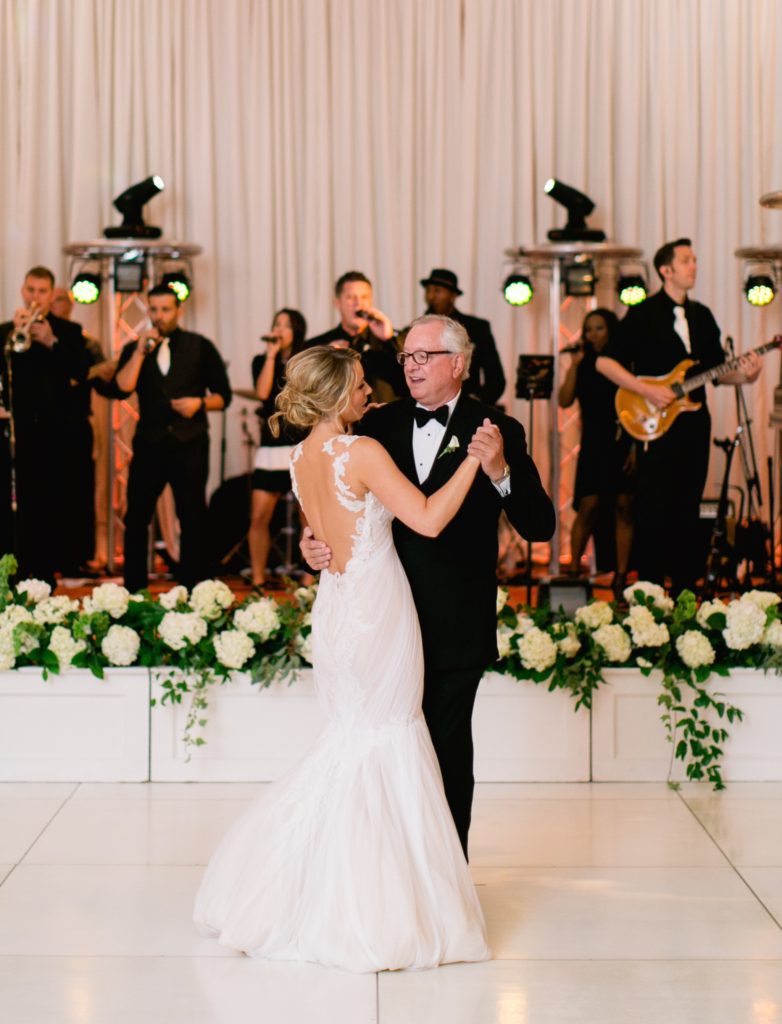 Dancing and singing with Dad to "My Girl",  of course.

Another special moment was that the band's lead vocalist Kim graciously allowed my childhood best friend Kaki and I to get on stage with all our friends and take over with our rendition of "Proud Mary". We have been "performing" for our neighbors, friends and karaoke audiences across the country since we were 6, so it was one of my favorite moments when everyone got on the stage with us. I have no idea what we sounded like, I'm just glad I didn't rip my dress.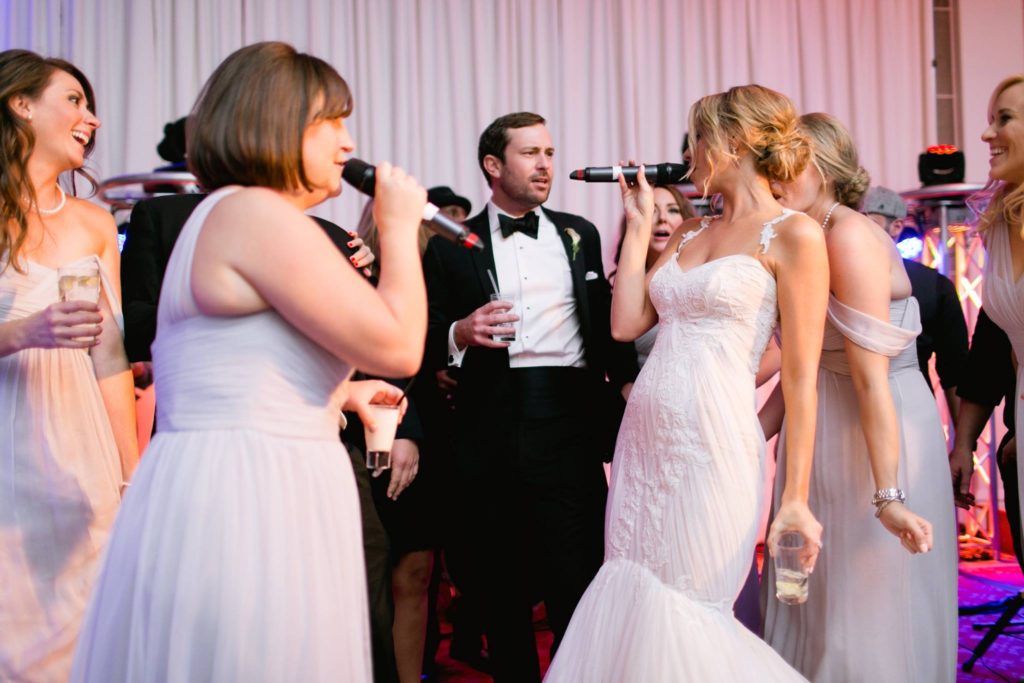 That's the way we do "Proud Mary"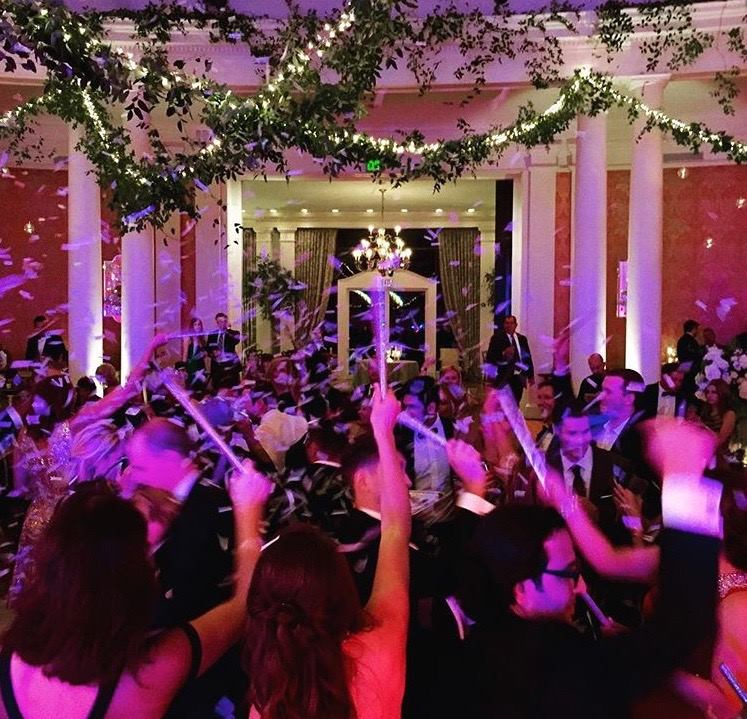 Signs of a great party!

3. Who are some of your go-to artists to make an event especially memorable?

As far as party bands go, I LOVE SI and Party on the Moon. I was fortunate enough to see these show bands in and around Atlanta during and after Ole Miss since a lot of my friends are from the South/Southeast. The musicians in these bands are extraordinary, and you can tell they live to perform.  In10City, Professor D and Empire 6 are definitely some of my favorite Texas party bands.  I also love David Caceres, he is Houston's finest Jazz vocalist. 

4. What advice do you have for someone who is thinking about hiring entertainment for their party?

Ask for help! There is so much misinformation and crazy stuff on the internet that can lead you in the wrong direction. Many great artists don't have fancy websites or a great online presence,  so you will miss them. I cannot tell you how many times I have heard, "I found them online", or "they looked great online", and they never showed up or were terrible. Credibility and reputation are big in this industry and you should always ask for reviews or advice on booking LIVE entertainment from an agent or someone who has actually seen them LIVE and/or done business with them before. Big or small, live music always adds a certain element that is intangible. It creates an experience. My advice for a host is to ask a professional, consider the nature of your party and your audience, and also to relinquish some control. If you hire a professional band or artist, you should be able to relax. As for weddings, my theory is as follows: if you splurge in this order, your guests will thank you- Band, Booze, Food, Flowers. #BBFF.

5.  What should people know about you?

Yesterday was my 1 year wedding anniversary! I met my husband in a karaoke bar, so our relationship has been full of singing and dancing since day one. 
As a complete stranger, he put me in a chair on the stage and sang Jackson Browne to me and I was crying with laughter/embarrassment, mostly for him! I love his love for music and it is important to me that we share songs and shows together.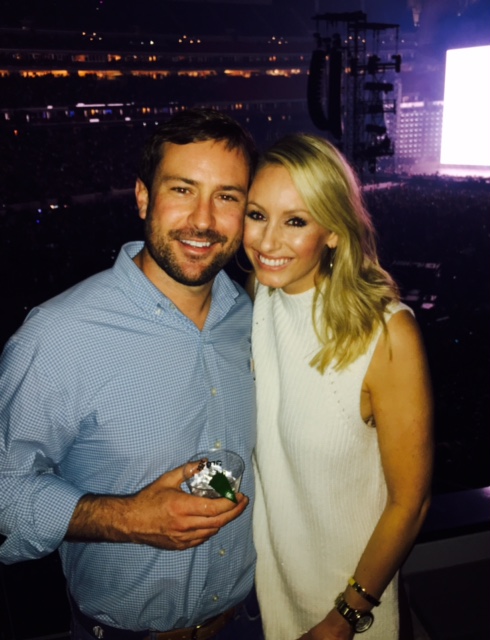 Beyonce Formation World Tour 2016

I truly love music and performing arts.  Coming from a strong dance and theater background and the most wonderful school in Midland, I have to say I'm so glad I grew up in a house full of music and a school environment that incorporated music into our daily routine.  I knew very early on that I would rather be creating and performing than crunching numbers! My parents and my school allowed me to be me and and I am so grateful for the many opportunities I have had working in this industry.   I value the craft of the artists we work with and love seeing and hearing clients' reactions to their live music selection.  I hope that my love for music shines through in my daily work and I can help people to create lifetime memories through their special events!

Rock and Roll,

Olivia 

Contact:

Olivia Holland Minahan
Senior Account Executive
Gulf Coast Entertainment
2001 Kirby Dr. Ste 710
Houston, TX 77019
(O) 713-523-7004
(M) 832-729-7250
(F) 713-528-0783