Luther & The Healers is of one of Houston's longest running and hardest working blues bands.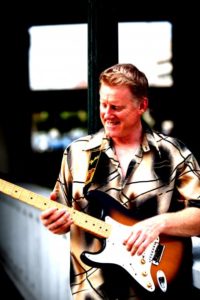 Established in 1991 and continuously performing upwards of 300 shows per year since, the band has been steadfastly dedicated to preserving the beautiful sounds of the blues in all of it's colors in every imaginable venue with the singleminded goal of bringing joy to the people while remaining true to the integrity of the music. A Texas-based blues band doing their very best every night to uphold the tradition of one of Americas true artistic treasures, THE BLUES.
.
Not sure if this is the right band for you? With just a few pieces of information, we will send you a free, curated list of entertainment options for your event. 
Pride and Joy
Cold Shot
Life By the Drop
Chitlin's con Carne
Texas Flood
Sky is Crying
Bad Case of Love
Woke up this Morning
Rock my Baby
Caldonia
Night Life
Everyday I Have the Blues
Let the Good Times Roll
Crosscut Saw
Born Under a Bad Sign
You're Gonna Need Me
Mustang Sally
Midnight Hour
Chain of Fools
Knock on Wood
Wonderful Tonight
Let's Get it On
Fiyo on the Bayou
Love & Happiness
Tore Down
Rack 'em Up
Mercy Mercy
Hoochie Coochie Man
Stormy Monday
Stand By Me
Got Me Runnin'
Phone Booth
Smokin' Gun
I Feel Good
Papa's Got a Brand New Bag
Right Next Door
I Guess I Showed Her
Take off Your Shoes
Leave Your Hat On
Sun Flower
Reviews