Empire 6 is a variety band that specializes in modern pop. This means they play everything from Rihanna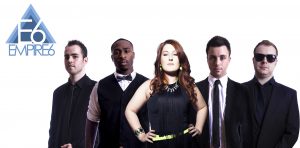 and LMFAO to Bon Jovi, George Strait, or Earth, Wind and Fire. They build their set lists so that guests of all generations have a great time, and they're even able to dial it way back and play some romantic tunes by artists such as Michael Buble and Norah Jones. There are five primary members, including a male and female vocalist, guitar, bass, drums, and use synthesizers and loops as well to recreate all the music they cover exactly as you hear it on the radio. The band is also expandable to an 8-piece which includes a three piece horn section.
Not sure if this is the right band for you? With just a few pieces of information, we will send you a free, curated list of entertainment options for your event. 
Modern Pop
California Love
Rolling in the Deep
Crazy in Love
Love on Top
Boom Boom Pow
I Gotta Feelin'
The Time
Locked Out of Heaven
Feel So Close
Call Me Maybe
Forget You
Want U Back
Yeah 3X
Come On Over
You Make Me Feel
Tonight I'm Loving You
Call on Me
Club Can't Handle Me
Low
Wild One
Salty Dog
Some Nights
We Are Young
Love You I Do
Domino
Price Tag
Sexyback
Brokenhearted
California Gurls
ET
Firework
Hot n Cold
I Kissed a Girl
Last Friday Night
Part of Me
Teenage Dream
Blah Blah Blah
Blow
Take It Off
Tik Tok
We R Who We R
Your Love is My Drug
Pursuit of Happiness
Use Somebody
Black Horse and the Cherry Tree
Bad Romance
Just Dance
Pokerface
Party Rock Anthem
Sexy and I Know It
Moves Like Jagger
One More Night
Payphone
Hot in Herre
Shake Ya Tailfeather
Animal
Everybody Talks
Pound the Alarm
Starships
Super Bass
Turn Me On
Good life
The Way You Move
Good Time
Give Me Everything Tonight
Gangnam Style
Buttons
Ignition
Only Girl
Rude Boy
S&M
Umbrella
California King Bed
We Found Love
Where Have You Been
Who's That Chick
It Wasn't Me
Dynamite
Higher
Bottoms Up
DJ Got Us Falling in Love
More
Yeah
The Wobble
Gettin' Jiggy With It
and 90s pop, rock, and hip hop
and 80s pop and rock
and Funky/Soul/Disco/Old Stuff
and Country
and Standards/Ballads